Calling on Allies to More Than Double Military Spending, Trump Piles on Pressure at NATO Summit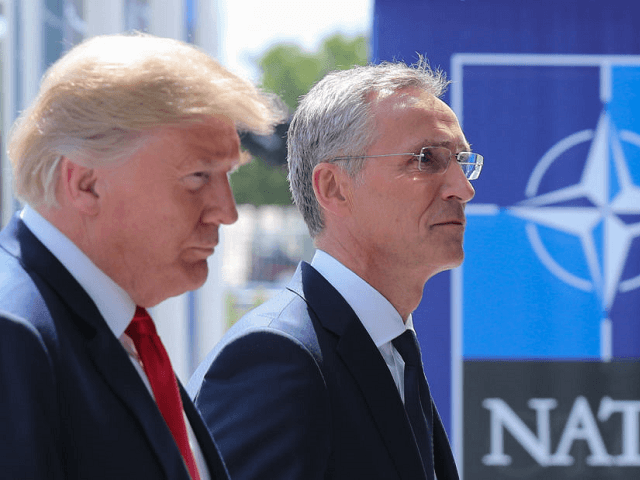 U.S. President Donald J. Trump has suggested that NATO allies not just hit the bare-minimum spending level required of members of the alliance, but double their spending beyond that as he continues to pile on the pressure in what is turning out to be a singularly exceptional NATO summit.
The comments, that North Atlantic Treaty Organization (NATO) members should go beyond spending two per cent of their Gross Domestic Product (GDP) on defence — the present minimum expected of signatories — and go for four per cent instead, were reported from a private summit meeting in Brussels Wednesday by the Bulgarian Prime Minister.
They were confirmed shortly after by White House press secretary Sarah Huckabee Sanders, who said of the claim: "During the President's remarks today at the NATO summit he suggested that countries not only meet their commitment of 2% of their GDP on defense spending, but that they increase it to 4%. The President raised this same issue when he was at NATO last year.
"President Trump wants to see our allies share more of the burden and at a very minimum meet their already stated obligations."
The President doubled down on his remarks very shortly afterwards when he took to Twitter to insist his NATO allies up their game immediately, writing: "Why are their only 5 out of 29 countries that have met their commitment? The U.S. is paying for Europe's protection, then loses billions on Trade. Must pay 2% of GDP IMMEDIATELY, not by 2025."
The comments come as fellow NATO leaders sought to excuse their low levels of spending, with major economies like France spending 1.8 per cent, and Germany spending just 1.2 per cent. As Breitbart London reported on Tuesday, NATO secretary-general Jens Stoltenberg took to the Wall Street Journal to praise NATO nations for slowly increasing spending.
The NATO leader posted that eight nations were expected to have hit the two per cent target this year, and that at least half should have 2024 — a decade on from the 2014 Cardiff declaration in which NATO nations reaffirmed their commitment to the two per cent spending floor.
Yet this promise rang hollow Wednesday when the latest NATO official spending figures showed the number of nations meeting their obligation had only reached five — and the Europe-wide average spending level was just 1.5 per cent.
President Trump's comments make clear he considers unacceptable the glacial progress towards two per cent by most nations is not good enough in an alliance which has traditionally heavily leant on the United States as a guarantor of common security, with other nations playing bit-parts. No NATO member — not even the United States — presently pays four per cent of GDP to national defence.
The remarks will be particularly heavily felt in some capitals — such as Berlin, where it has recently been revealed that not only are Germany's only two naval tankers out of operationdue to maintenance issues, but 124 of 128 front-line Eurofighter jet fighters are also out of operation, again due to maintenance issues.
Meanwhile, in London, defence secretary Gavin Williamson has steadfastly been calling for significant rises to the British military budget — even going so far as to suggest it should rise from two to three percent of GDP. Although considered a stunt announcement at the time, it is a level of spending seen as recently as the 1990s, would help reverse the serious decline in British military capability, and now stands short of President Trump's call for NATO solidarity at four per cent.
Williamson's calls for funding have, so far, been steadfastly ignored by the Chancellor and the Prime Minister Theresa May — who may expect to be taken to task by President Trump in the coming days.
Oliver JJ Lane is the editor of Breitbart London — Follow him on Twitter and Facebook
https://www.breitbart.com/london/2018/07/11/calling-allies-more-double-military-spending-trump-piles-pressure-nato-summit/
---
TRUMP EFFECT: NATO Ally Hungary to Increase Defence Spending to 2 Percent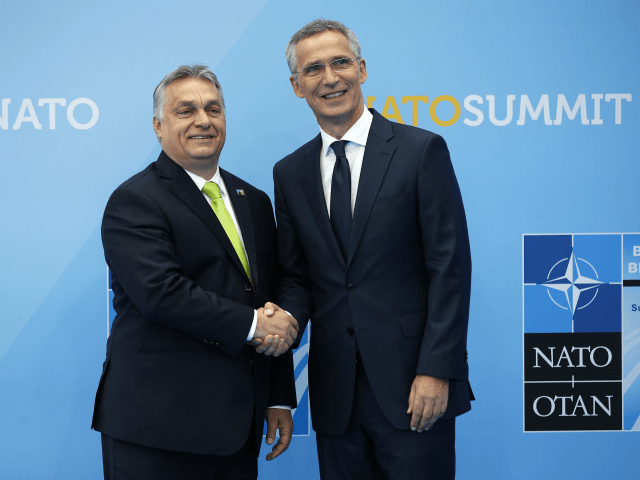 Hungary has pledged to increase its defence spending after President Donald J. Trump pressured allies to pay their fair share during the alliance's summit on Wednesday.
Hungarian Foreign Minister Péter Szijjártó told press during a break of the NATO summit in Brussels, Belgium, that his country has embarked on a comprehensive military development scheme — dubbed Zrinyi 2026 — which will enable Hungary to honour its pledge to increase its defence spending to the minimum 2 percent of GDP, according toHungarian wire service MTI.
The announcement came after criticisms from President Trump directed at the alliance members, the vast majority of whom do not spend the minimum 2 percent, Wednesday morning, with the U.S. president calling them "delinquent".
"Many countries are not paying what they should, and, frankly, many countries owe us a tremendous amount of money from many years back," Mr. Trump said at the breakfast with NATO Secretary-General Jens Stoltenberg at the residence of the U.S. ambassador to Belgium.
Calling on Allies to More Than Double Military Spending, Trump Piles on Pressure at NATO Summit https://www.breitbart.com/london/2018/07/11/calling-allies-more-double-military-spending-trump-piles-pressure-nato-summit/ …

Trump Urges NATO Allies to Boost Defence Spending to Four Per Cent

U.S. President Donald Trump has suggested that NATO allies double their spending beyond the minimum 2 percent.

breitbart.com
"They're delinquent, as far as I'm concerned, because the United States has had to pay for them," President Trump added.
Hungary, led by conservative and patriotic Prime Minister Viktor Orbán (pictured above with Stoltenberg), also plans to join NATO's training mission in Iraq and expand its role in the international fight against Islamic State by increasing the number of Hungarian soldiers serving in the country from 167 to 200, Mr Szijjártó said.
https://www.breitbart.com/london/2018/07/11/trump-effect-nato-ally-hungary-increase-defence-spending-2-percent/
---
Donald Trump Fighting for American Farmers at NATO Summit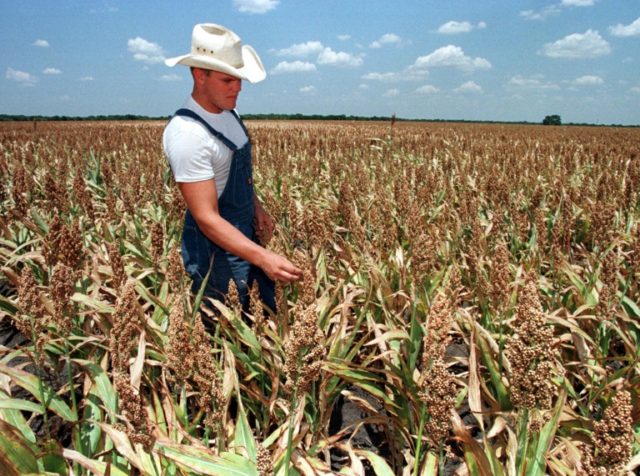 President Donald Trump had American farmers on his mind at the NATO summit on Wednesday, calling out other countries for trade barriers and tariffs "destroying their businesses."
Trump tweeted in defense of American farmers while attending the NATO summit in Brussels, Belgium. He pledged to open things up better than ever while warning "it can't go too quickly."
"I am in Brussels, but always thinking about our farmers," wrote Trump:
"Soy beans fell 50% from 2012 to my election," Trump said, highlighting the plight of farmers before he took office. "Farmers have done poorly for 15 years." 
Trump called out the trade barriers put on the U.S. by other countries. "Other countries' trade barriers and tariffs have been destroying their businesses."
He pledged in two tweets to open "…things up, better than ever before, but it can't go too quickly. I am fighting for a level playing field for our farmers, and will win!":
Trump participated in a breakfast meeting with NATO Secretary General Jens Stoltenberg in the morning. In the afternoon, he held two separate pull-aside meetings with German Chancellor Angela Merkel and French President Emmanuel Macron. 
Both Trump and Merkel sat side by side as they told reporters that they discussed trade in their meeting. "I believe that our trade will increase, and lots of other things will increase," said Trump.
"We'll see what happens over the next period of a few months." Merkel said, "Indeed, we have an opportunity to have an exchange of our economic developments on issues such as migration and also the future of our trade relations."
Trump also told reporters while sitting next to Macron that his discussion with Macron involved trade, NATO, "a lot of different things, and hopefully, in the end, it'll all work out."
At June's G7 summit in Canada, President Trump proposed to fellow G7 countries that they eliminate all trade barriers. "That's the way it should be, no tariffs, no barriers … and no subsidies," said Trump speaking of his college education. "That's the way you learned at the Wharton school of finance, I mean that would be the ultimate thing." Chief economic adviser to the president, Larry Kudlow, said of Trump's G7 comments at the time, "I, myself, was particularly gratified to hear my president talk about free trade."
Follow Michelle Moons on Twitter @MichelleDiana.
https://www.breitbart.com/big-government/2018/07/11/trump-fighting-american-farmers-nato/
---
TRUMP PUTS AMERICA FIRST IN GLOBAL TRADE
Check out the new round of submissions by dedicated Infowarriors! 26K in prizes!
IMAGE CREDITS: FLICKR, MEAACT.
Trump calls for fair and honest international trade that would also put America's interests first, reports Jay Gore in his must-watch entry for Infowars.com's 2018 reporter contest.Jay Gore – Mo. Right to Work Coverage
Infowars is proud to present the twelfth round of submissions from dedicated contestants competing to join the ranks of the Info War against the globalists – and a chance to win a prize!
Submissions period for the 26K Reporter contest is now closed
Due to a lot of last-minute entries, we will be publishing more videos over the next week. If your video is published then your entry has been accepted.
Watch the rest of the latest entries for the 2018 Infowars Reporter Contest below.
Chase Landers – Agenda 21, War on Agriculture
Jay Gore – 2nd American Revolution
Chase Landers – Gas Prices on the Rise
Jay Gore – Drug War Progress
Chase Landers – Crazy California
Jay Gore – Chateau Pensmore, InfowarsLife Endorsement
Thank you, Infowarriors!
https://www.infowars.com/trump-puts-america-first-in-global-trade/
---
TRUMP'S 'AMERICA FIRST' ECONOMY SECURES 10-YEAR EMPLOYMENT HIGH FOR MANUFACTURING WORKERS
In June 2018, Trump's booming economy delivered an additional 36,000 manufacturing jobs for American workers
IMAGE CREDITS: FLAZINGO PHOTOS.
More American manufacturing workers are employed today than at any time in the last ten years as President Trump's 'America First' economy seeks to protect U.S. industry and jobs with tariffs, less immigration, and tax relief.In June 2018, Trump's booming economy delivered an additional 36,000 manufacturing jobs for American workers, many of whom have had their livelihoods destroyed by job-killing free trade deals like NAFTA and KORUS.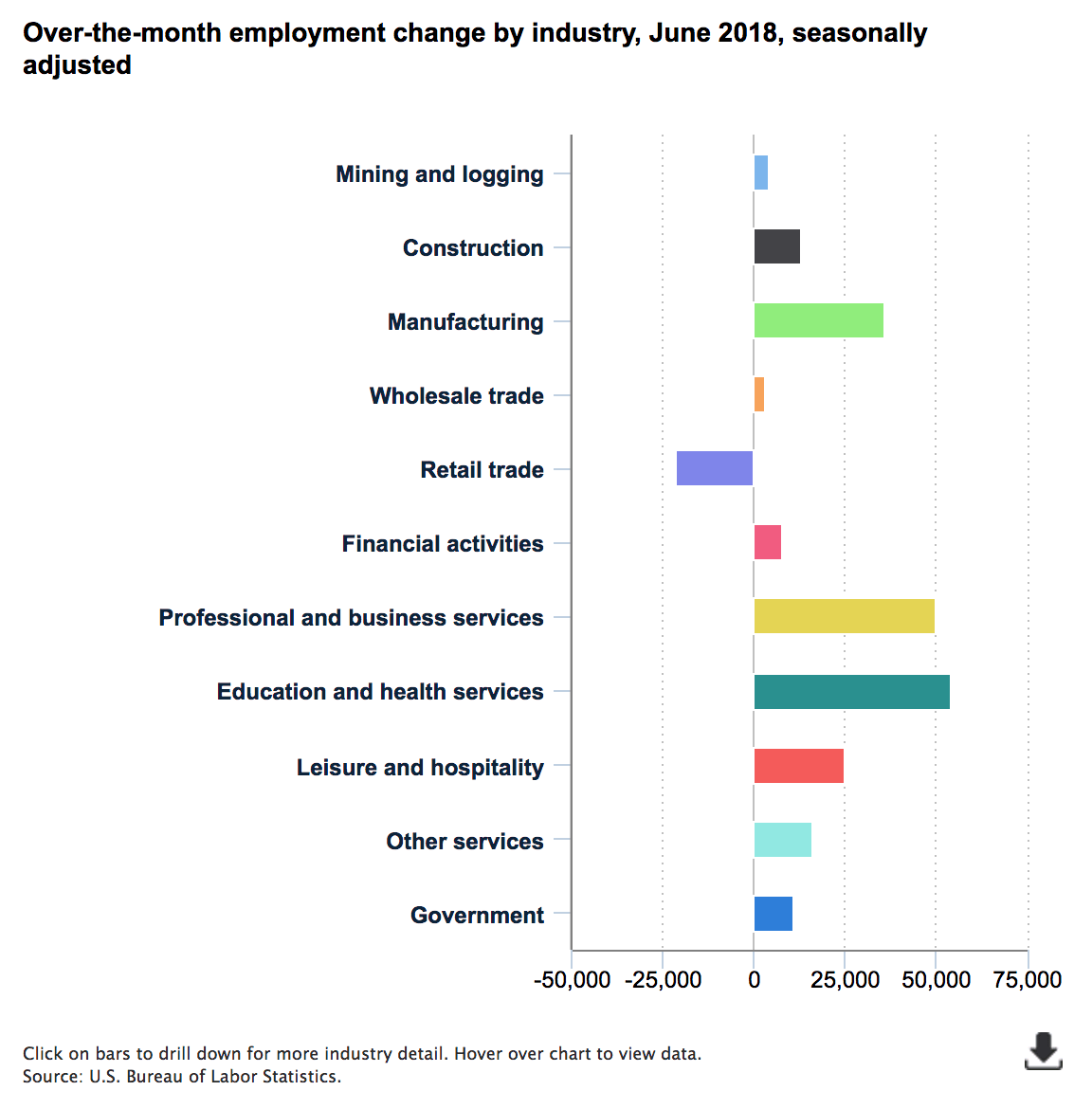 Specifically, in the metals manufacturing industry, Trump's tariffs on imported steel, aluminum, and Chinese electronics seems to have boosted U.S. job growth — with 7,000 new jobs in manufacturing fabricated metal products, 5,000 new jobs in manufacturing computer and electronic products, and 3,000 new jobs in manufacturing primary metals.
Additionally, 12,000 car and vehicle parts manufacturing jobs were created in June. In the past year, there have been 285,000 new manufacturing jobs added to the U.S. economy as Trump encourages and incentivizes companies to move production back to the country.
https://www.infowars.com/trumps-america-first-economy-secures-10-year-employment-high-for-manufacturing-workers/
---
Related
https://www.breitbart.com/big-government/2018/07/11/obama-officials-freak-out-after-trump-calls-out-nato-russian-monopolies-in-e-u-countries/