Federal contractor Reality Leigh Winner arrested for sending classified NSA intelligence to news outlet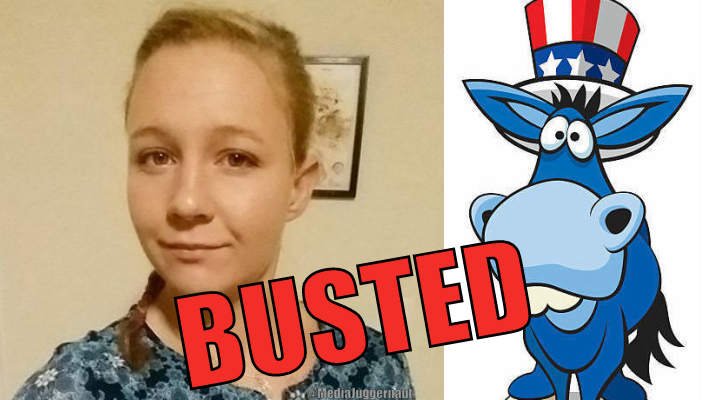 June 5, 2017 by Kyle Feldscher
A 25-year-old federal contractor is facing charges she leaked a classified National Security Agency document to a news outlet in May.
The charges against Reality Leigh Winner came about an hour after the publication of a story based on an NSA document detailing Russian attempts to hack American voting systems in 2016.
President Trump has been pushing Justice to go after leakers inside the federal government, which he has identified as "the big story" when it comes to Russia's involvement in the 2016 presidential election. Winner's arrest could signal the federal government is going to aggressively investigate and prosecute individuals who send classified intelligence to news organizations.
Trump and other Republican allies in Washington have made pursuing leakers one of their top priorities, but Winner is the first to face charges for releasing classified intelligence.
Winner, of Augusta, Ga., is facing charges that she removed classified material from a government facility and mailed it to a news outlet. She was arrested on Saturday and appeared on the charge Monday.
The announcement came shortly after The Intercept published a report based on a classified intelligence document showing Russian government hackers attempted to hack more than 100 local election officials before the November election.
According to the report, Russian military intelligence sent the emails to local elections officials. They also attempted a cyberattack on at least one American voting software supplier.
The Justice Department didn't confirm that Winner leaked the document to The Intercept, but the report stated the report received by the news outlet was dated May 5. The affidavit confirms the intelligence document was also dated on May 5.
Winner worked for Pluribus International Corporation and was assigned to a government facility in Georgia. She's held a top secret classified security clearance since being hired on Feb. 13.
She is accused of sending the classified document to a news outlet a few days after printing it off.
The government was not aware Winner leaked the document until a news outlet contacted government officials for comment on an upcoming report based on a document they believed to be classified. After receiving and reviewing a copy of the document, the government began an investigation.
"The U.S. Government Agency examined the document shared by the News Outlet and determined the pages of the intelligence reporting appeared to be folded and/or creased, suggesting they had been printed and hand-carried out of a secured space," the affidavit read.
Winner was identified because she was one of six people who printed the document off of their computer. Of those six, she was the only one who had any email contact with a news outlet.
"Winner further acknowledged that she was aware of the contents of the intelligence reporting and that she knew the contents of the reporting could be used to the injury of the United States and to the advantage of a foreign nation," the affidavit stated.
"During that conversation, Winner admitted intentionally identifying and printing the classified intelligence reporting at issue despite not having a 'need to know,' and with knowledge that the intelligence reporting was classified."
Winner remains under investigation.
https://hocuspocus13.wordpress.com/2017/06/06/busted-leaker-reality-l-winner-arrested-for-mailing-classified-info-to-news-outlet-the-intercept/
https://70news.wordpress.com/2017/06/05/busted-leaker-reality-l-winner-arrested-for-mailing-classified-info-to-news-outlet-the-intercept/
http://www.washingtonexaminer.com/federal-contractor-arrested-for-sending-classified-intelligence-to-news-outlet/article/2625014
---
NSA contractor accused of leaking top secret report on Russian hacking efforts
June 5, 2017 By Samuel Chamberlain
A federal contractor was arrested over the weekend and accused of leaking a classified report containing "Top Secret level" information on Russian hacking efforts during the 2016 presidential election.
Reality Leigh Winner, 25, appeared in U.S. District Court in Augusta, Ga., to face one charge of removing classified material from a government facility and mailing it to a news outlet, the Justice Department said Monday.
Winner's arrest was announced shortly after the Intercept website published a story detailing how Russian hackers attacked at least one U.S. voting software supplier and sent so-called "spear-phishing" emails to more than 100 local election officials at the end of October or beginning of November.
The Justice Department did not specify that Winner was being charged in connection with the Intercept's report. However, the site noted that the National Security Agency (NSA) report cited in its story was dated May 5 of this year. An affidavit supporting Winner's arrest also said that the report was dated "on or about" May 5.
The Intercept contacted the NSA and the national intelligence director's office about the document and both agencies asked that it not be published. U.S. intelligence officials then asked The Intercept to redact certain sections. The Intercept said some material was withheld at U.S. intelligence agencies' request because it wasn't "clearly in the public interest."
The report said Russian military intelligence "executed cyber espionage operations against a named U.S. company in August 2016 evidently to obtain information on elections-related software and hardware solutions, according to information that became available in April 2017."
The hackers are believed to have then used data from that operation to create a new email account to launch a spear-phishing campaign targeting U.S. local government organizations, the document said. "Lastly, the actors send test emails to two non-existent accounts ostensibly associated with absentee balloting, presumably with the purpose of creating those accounts to mimic legitimate services."
The document did not name any state.
The information in the leaked document seems to go further than the U.S. intelligence agencies' January assessment of the hacking that occurred.
The Washington Examiner reported that Winner worked for Pluribus International Corporation and was assigned to a U.S. government facility in Georgia. She had held a top-secret classified security clearance since being hired this past February. The affidavit sworn by FBI agent Justin Garrick said that she had previously served in the Air Force and held a top-secret security clearance.
Winner's attorney, Titus Thomas Nichols, declined to confirm whether she is accused of leaking the NSA report received by The Intercept. He also declined to name the federal agency for which Winner worked.
"My client has no (criminal) history, so it's not as if she has a pattern of having done anything like this before," Nichols told the Associated Press in a phone interview Monday. "She is a very good person. All this craziness has happened all of a sudden."
Garrick said in his affidavit that the government was notified of the leaked report by the news outlet that received it. He said the agency that housed the report determined only six employees had made physical copies. Winner was one of them. Garrick said investigators found Winner had exchanged email with the news outlet using her work computer.
Garrick's affidavit said he interviewed Winner at her home Saturday and she "admitted intentionally identifying and printing the classified intelligence reporting at issue" and mailing it to the news outlet.
Asked if Winner had confessed, Nichols said, "If there is a confession, the government has not shown it to me."
House Oversight Committee Chairman Rep. Jason Chaffetz, R-Utah, praised the arrest in an appearance on Fox News' "The Story with Martha MacCallum."
"When you have classified information, you cannot put that out there just because you think it would be a good idea," Chaffetz said. "I want people in handcuffs and I want to see people behind bars."
Chaffetz also criticized federal agencies for failing to protect sensitive information after a series of high-profile leaks.
"They have hundreds of thousands of people that have security clearances," Chaffetz said. "There are supposed to be safeguards in there … But how many times do we have to see this story happen? They obviously don't have the safeguards."
The Associated Press contributed to this report.
http://www.foxnews.com/politics/2017/06/05/nsa-contractor-accused-leaking-top-secret-report-on-russian-hacking-efforts.html
---
NSA Contractor Had History Of Anti-Trump Comments
Reality Leigh Winner, of Augusta, Georgia has the unfortunate distinction of being the first leaker caught by the Trump Administration.  With members like Jason Chaffetz saying "I want to see people in handcuffs," the 25-year-old federal contract worker could be facing some serious jail time.  In addition, she seems to fulfill the image advanced President Trump as a liberal, anti-Trump advocate within the system.  What will be interesting is the sentence sought by the Administration after high-ranking officials have been given no criminal charges or misdemeanors for removing classified information and other related charges.
Winner is charged with gathering, transmitting or losing defense information that could have been damaging to the U.S.  The indictment alleges that she took a top secret National Security Agency document, copied it and mailed it to a news organization. The organization is believed to be The Intercept.  She did not make it particularly difficult for investigators.
Winner was an employee at Pluribus International Corporation, which is based in Alexandria, Virginia. The company supplies analytical and engineering services and Winner was working at its Georgia location.
Winner was an active duty member of the U.S. Air Force and worked as a linguist. She has an impressive background and can speak Pashto, Farsi and Dari.
---
Winner is active on social media and posted liberal and anti-Trump material under the name Sara Winners.
---
In February , Winner tweeted that rapper Kanye West that he should make a shirt declaring whiteness an act of terror: "@kanyewest you should make a shirt that says, 'being white is terrorism.'" She also indicates that she is a Sanders supporter.
I do not believe that these comments should have disqualified her for such work.  Rather the tweets will likely support the narrative advanced by Trump that he is being actively undermined by political opponents in federal agencies. However, one alleged tweet would raise security issues for someone with an active clearance:
3 Feb
Javad Zarif ✔ @JZarif
We will never use our weapons against anyone, except in self-defense. Let us see if any of those who complain can make the same statement. pic.twitter.com/xwGquvqLvb
Follow
Sara Winners @Reezlie
@JZarif There are many Americans protesting US govt aggression towards Iran. If our Tangerine in Chief declares war, we stand with you!
8:18 AM – 7 Feb 2017
231 231 Retweets 192 192 likes
Twitter Ads info and privacy
The FBI received the tip that led to her arrest from a news outlet.  Intercept may have shown the document to a third party for verification.  The investigators soon determined that Winner was one of six people who had access to the document in question on her computer since it was published internally.  They then found an email contact with the  news outlet on March 30 and then again March 31 from her personal GMail account.
The Intercept may face questions from whistleblowers and other groups over its protection of a source if it was the cause for this material to be revealed to the government.
She reportedly confessed.
The Espionage Act charges carry a sentence of up to 10 years in prison.  Usually such cases will result in sentences of one to three years.  The Obama administration prosecuted nine or ten leak-related cases — twice the number of cases brought by all previous administrations.
Here is the affidavit in support of the indictment.
https://jonathanturley.org/2017/06/06/nsa-contractor-had-history-of-anti-trump-comments/
---
First Deep State Arrest: Government Contractor Busted Leaking NSA Docs to 'The Intercept'
Reality Leigh Winner, a 25-year-old contractor with Pluribus International Corporation, was charged in federal court Monday for allegedly leaking a National Security Agency (NSA) report on Russian Election hacking to left-wing news site The Intercept.
In the criminal complaint handed down in U.S. District Court for the Southern District of Georgia, Winner is charged with "Gathering, transmitting or losing defense information" in relation to an alleged scheme to leak a May NSA report to the media.
According to the supporting affidavit, Winner printed the report, for which she had no "need to know," smuggled it from an unnamed U.S. intelligence agency facility in Georgia, and later transmitted it to an unnamed news outlet.
The matter was serious enough that the nation's number two law enforcement official, Deputy Attorney General Rod Rosenstein, felt it necessary to weigh in. In the press release announcing Winner's charging, Rosenstein wrote:
Exceptional law enforcement efforts allowed us quickly to identify and arrest the defendant … Releasing classified material without authorization threatens our nation's security and undermines public faith in government. People who are trusted with classified information and pledge to protect it must be held accountable when they violate that obligation.
She was caught only when that news outlet asked the intelligence agency to comment on the document last Tuesday. Upon realizing the document was, in fact, classified material, the agency quickly enlisted the FBI for an internal investigation that pointed to Reality Winner as the source of the leaks.
While the affidavit makes no mention of which news outlet Reality Winner sent the stolen material to, NBC News Cyber Security Reporter Tom Winter later tweeted that a senior federal official confirmed it was left-leaning investigative news site The Intercept.
As news of Winner's arraignment broke, the lead story on The Intercept was, in fact, an in-depth piece based on a purported NSA document with the same date, May 5, given in the affidavit supporting Winner's charging.
This is not only recent controversy involving The Intercept, which was founded specifically to dig into the American intelligence apparatus. Intercept writer Juan Thompson was fired last year for fabricating stories about the racially-charged tragedy at South Carolina's Emanuel African Methodist Episcopal Church, apparently to play up stereotypes of racist white southerners and smear Donald Trump supporters. This March, Thompson was the first person arrested for calling in threats to Jewish community centers as part of a nationwide intimidation campaign that was also widely blamed by the media on Trump supporters.
Reality Winner, who, according to a Justice Department press release, was arrested Saturday, held a "top secret" clearance in relation with her work for Pluribus, a defense and intelligence contractor. According to the affidavit, when questioned, she admitted to printing the document and sending it to the media from her home in Augusta, Georgia.
The Daily Mail later trawled the idiosyncratically named millennial accused's social media, revealing images of a smiling young woman with an impressive travelogue and range-time with a neon-pink-colored AR-15-style rifle.
Each count of 18 U.S.C. §793, the crime with which Ms. Winner is charged, carries a penalty of up to ten years in federal prison.
http://www.breitbart.com/big-government/2017/06/05/first-deep-state-arrest-government-contractor-busted-leaking-nsa-docs-to-the-intercept/
---
Miller: WH will try to make example out of alleged leaker
---
Throw Down on Classified Info Leakers! Dan Bongino!
Dan Bongino to leakers: Grow a spine, you gutless punks
---
That Intel Leaker? Arrested! Plus More with Judge Nap!
---
---
Related
http://thehill.com/homenews/house/336459-chaffetz-on-leakers-i-want-people-in-handcuffs-and-i-want-to-see-people-behind