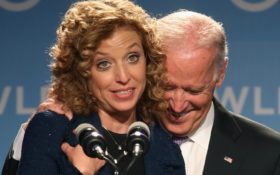 Horn News
Disgraced former DNC chief Debbie Wasserman Schultz just can't get out of her own way — and it's getting pathetic.
Just days after threatening the D.C. police chief over evidence connected to her and suspected foreign spies that cops say stole critical data from the U.S. House of Representatives, Wasserman Schultz is in the news again.
This time, she was reportedly caught calling the law offices suing the DNC for rigging the election.
According to a court filing, Attorney Elizabeth Lee Beck's office received a strange call from a person using a voice changing device on 5:00 p.m. Thursday. The caller was seeking information about the lawsuit their office has filed against the DNC over rigging the 2016 election.
Wasserman Schultz was named as the suspected individual behind the call… because she forgot to turn off caller ID.
"After a brief chat with the law firm's secretary, the 'mysterious' voice-masking caller concluded the call with an 'Okey dokey.'" Zero Hedge reported.
It seems you don't have to be James Bond smooth to be a corrupt Clinton insider.
The lawsuit accuses the DNC of intentionally rigging the Democratic primary in favor of former Secretary of State Hillary Clinton.
Lawyers representing the DNC are arguing in the courts that they're legally allowed to cheat in primary elections.
After a quick internet search confirmed the phone number was Wasserman Schultz's office, the attorney's filed notice with the courts that they'd received unsolicited contact from the former DNC chief.
There's no need to worry that Wasserman Schultz gained anything, though.
The "robotic and genderless" caller was only able to get information that was already public knowledge and available to the DNC legal team.
https://arlinreport.com/2017/06/04/busted-clinton-pal-caught-using-voice-changer-to-call-law-office-suing-dnc-nwo-report/
https://nworeport.me/2017/06/04/busted-clinton-pal-caught-using-voice-changer-to-call-law-office-suing-dnc/
---
Stupid is as stupid does, Mrs. Blue…
---