JAMES COMEY, UNDER OATH, SAID TRUMP NEVER ASKED FBI TO STOP ANY INVESTIGATION: 'It's not happened!'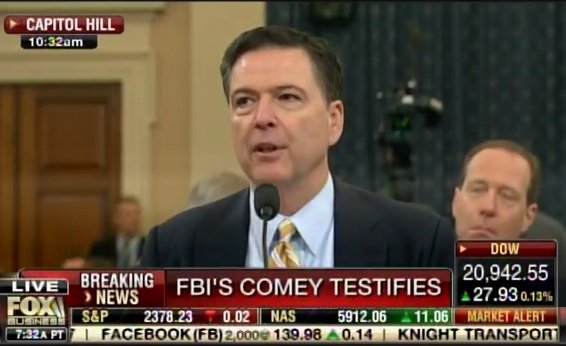 James Comey, under oath, on Trump telling him to stop probe for political purpose: 'It's not happened!'
Former FBI Director James Comey testified under oath May 3rd that the Trump administration had not pressured his agency to halt any investigation for political purposes. 
Via GotNews:
Former FBI Director James Comey testified under Senate oath May 3rd that the Trump administration had not pressured his agency to halt any investigation for political purposes.

Comey admitted that the FBI has always been free to operate without political interference—flying in the face of Democrats' paranoid delusions about Russia and President Donald J. Trump, and exposing for what it is a new political witch hunt Wednesday by enemies within the president's own Justice Department.

Videotaped testimony before the Senate Judiciary Committee blows apart the phony narrative New York Times reporter Michael Schmidt wove on Tuesday, which resulted in Mueller's appointment. Schmidt's only sources were anonymous. They claimed that on Feb. 14th, the day after National Security Adviser Michael Flynn resigned, Trump had asked Comey to end an investigation into Flynn's connections to Russia.

Schmidt's allegations that Trump attempted to obstruct justice hinged on the sources' accounts of a memo authored the same day. Schmidt, a Democrat party lackey, admitted he hasn't even seen the document—dated nearly three months before Comey's testimony that totally contradicts it.

Comey's statement to Hawaii Democratic Senator Mazie Hirono from May 3rd, which Center for Security Policy analyst Nick Short noted Wednesday, exposes the Democrats once again for their political gamesmanship.
https://70news.wordpress.com/2017/05/18/james-comey-under-oath-said-trump-never-asked-fbi-to-stop-any-investigation-its-not-happened/
---
Burr: Comey never mentioned Trump's request to end Flynn inquiry
May 16, 2017
Senate Intel Chair Richard Burr tells PBS NewsHour's Lisa Desjardins that during hearings, then-FBI Director Comey never mentioned President Trump's request to back away from the Michael Flynn investigation.
---
Comey Caught Committing Perjury To Congress?
May 18, 2017
This video proves that James Comey perjured himself to Congress claiming that no one had asked him to halt the investigation into the Trump/Russia connection.
---
Trey Gowdy Tells Comey CUT the BS Game & come back with all facts on Trump and Russia
Mar 20, 2017
Trey Gowdy to Comey CUT the BS Game & come back with all facts on illegal leaks & Trump-Russia Probe . James Comey, Mike Rogers Testify on Wiretapping, Russia: Live Analysis
---
Senators following intel briefing. Robert Mueller. M Flynn. Comey FBI
May 18, 2017
Sen. John Cornyn, Sen. Blumenthal, Sen. Cassidy, Senators following intel briefing. Robert Mueller. M. Flynn. Comey. FBI. Russia investigation. President Trump
---
REUTERS ADMITS: "NO EVIDENCE OF COLLUSION" BETWEEN TRUMP AND RUSSIA
Report completely demolishes left's Russia conspiracy narrative
May 18, 2017 by Paul Joseph Watson
A Reuters report detailing how Trump campaign advisers were in contact with Russia during the last 7 months of the campaign admits that there was no evidence of collusion between the two parties to influence the election, dismantling the left's entire Russian narrative.
Although presented as another major scoop designed to damage Trump, the article, which is based on intelligence sources, completely vindicates him.
"Michael Flynn and other advisers to Donald Trump's campaign were in contact with Russian officials and others with Kremlin ties in at least 18 calls and emails during the last seven months of the 2016 presidential race, current and former U.S. officials familiar with the exchanges told Reuters."
However, the true substance of the story is buried down in paragraph six.
"The people who described the contacts to Reuters said they had seen no evidence of wrongdoing or collusion between the campaign and Russia in the communications reviewed so far," states the report.
No collusion between Trump and Russia. Let that sink in.
The article also highlights how the back channel communications were made with Russia in an attempt to "bypass the U.S. national security bureaucracy, which both sides considered hostile to improved relations."
In other words, Trump wanted peace with the world's other nuclear superpower while forging ahead with a joint plan to destroy ISIS.
How terrible of him.
Despite no evidence whatsoever having been presented of Trump or anyone on his campaign colluding with Russia to influence the election, the deep state and the Democratic establishment is intensifying its effort to portray Trump as illegitimate.
As we document in the video below, this is likely to lead to widespread civil unrest in major cities later this summer, with the DNC already funding a giant "Summer Resistance program" that will set off a chain of violent demonstrations across the country.
https://www.infowars.com/reuters-admits-no-evidence-of-collusion-between-trump-and-russia/
---
'NO! NO! NEXT QUESTION' President Trump on Whether He Asks Comey Drop Russia Investigation
---
---
Related
http://www.foxnews.com/politics/2017/05/18/joe-lieberman-emerges-as-trumps-top-choice-for-fbi-director.html
http://www.foxnews.com/politics/2017/05/18/who-is-joe-lieberman-trumps-top-pick-for-fbi-director.html
http://www.breitbart.com/big-government/2017/05/18/trump-says-he-did-not-ask-comey-to-back-down-on-investigating-flynn/
http://www.breitbart.com/video/2017/05/18/trump-urged-comey-end-flynn-probe-no-no-next-question/
---
Related previous posts on this blog
https://reclaimourrepublic.wordpress.com/2017/05/17/video-leaker-h-r-mcmaster-refutes-deep-state-classified-fake-news-hyperventilation-real-story-is-the-leaks/
https://reclaimourrepublic.wordpress.com/2017/05/18/rino-leaker-mccain-deep-state-revenge-wapo-article-that-debunks-comey-memo-claim-putin-would-provide-transcript/
https://reclaimourrepublic.wordpress.com/2017/05/18/video-proof-comey-is-a-liar-about-meeting-with-trump-fbi-and-its-special-agents-breathe-a-sigh-of-relief/
https://reclaimourrepublic.wordpress.com/2017/05/18/video-why-comey-was-fired-and-the-deep-state-is-running-scared-new-fbi-head-unannounced-kissinger-visit/